Join the $9.1Billion home robotics industry
Imagine if you had of been one of the first people to sell mobile phones, invest in Microsoft or invest in Apple, what difference would have that made to your life today?
No matter who you are, this page will be a turning point; for some it will be an unbelievable new opportunity, for others it will be a future reflection of what could have been.
The home robotics industry is expected to be a $9.1 Billion industry by 2024 (currently $3 Billion), that is a compounded annual growth rate of 22.4%. To place that figure into perspective, US online sales grew at a rate of 12.3% in 2019.
I know nothing about robotics
I know nothing about robotics!
So, you're thinking I have no experience with robotics, how can I be a part of this industry?
Great home robotic products are easy to use and make people's lives easier. If you are passionate, love great customer service, can sell, are willing to learn, are a team player and want to be a part of a true global movement, then MoeBot is for you.
Why I developed MoeBot
Despite having a well-paid career as an executive, I felt a void in my life.
I had spent my corporate career building new business units, developing franchise systems in Australia and Overseas. Time and time again I would see everyday people squeezed to the wall with onerous franchise fees and contracts that took a team of lawyers to dissect and understand.
It didn't seem fair, it always seemed that the business relationship was always swayed towards the Franchisor.
So, after building a great career, I decided to leave my corporate life and create a business model that is unique, fair and supportive.
More importantly I knew the formula of success for business. Not from reading books, but from developing strategy and working closely with fast growth businesses.
The simple truth, you must be in the right place at the right time. Big businesses are built off the back of mega trends and you've got to be lucky enough to see the opportunity and brave enough to take the risk.
Have no doubt, you are in that place right now!
It's no cheesy sales line, heard of Industry 4.0?
Don't take my word for it, check out this video.
The next 10 years is going to change human history and one of the key cornerstone pieces that will be a part of that change is home robotics.
This is your chance to be apart of the future.
Meet MoeBot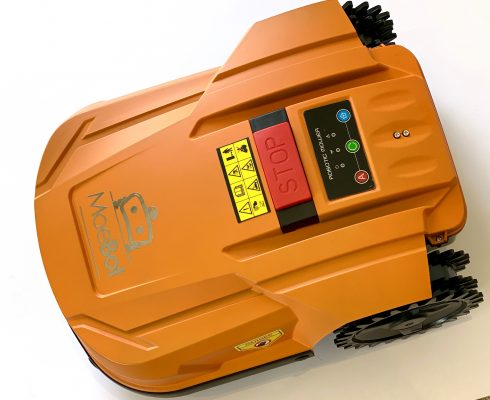 To ride the wave of industry 4.0 we developed a range of consumer grade robotic lawn mowers that makes our clients lives easier.
Our range is called MoeBot.
When we developed MoeBot, we wanted to have an easy to use and cost-effective robot lawn mower. Robot mowers can cost up to $20,000 a unit, so in many circumstances they are unattainable for the everyday person.
We wanted a product that the everyday person can afford.
We have a unique value proposition by having the most cost-effective robot lawn mower available.
With a RRP of $550 USD for the MoeBot 800, there is no other robot lawn mower at that price. Creating an unprecedented opportunity for our dealers. MoeBot makes our customers lives easier, saves time and saves them money compared to a garden service.
But it is not just us who thinks MoeBot is great, read what our customers are saying.
Moebot has been awesome. I used to dread mowing, but this product has changed the whole way I enjoy my yard. I now love my grass areas and don't even think about mowing as another chore. I love turning it on and walking away to go do something else.

Moebot has exceeded my expectations for transitioning to electric instead of petrol. It has also made quite a few of my friends jealous!

KimjAn Achilles (Melbourne)
I've had my Moebot for a few months now and is going fantastic! Am loving not having to mow the lawn and it always looks great. I looked into a couple of robot lawn mowers, but they all seemed expensive with unnecessary features. Moebot has all the great features you need and it cuts through my thick Kikuyu grass with ease. I found burying the wire a bit hard, but once done you just set and forget. You don't have to worry about emptying grass clippings, or having clumps of mulch laying around your lawn.

I would definitely recommend Moebot!

Rhys Matthews (Melbourne)
Why robotic lawn mowers?
Purchasing a lawn mower is a grudge purchase, who likes mowing lawns?
It is an annoying job that must be done. The best thing, you can't ignore grass, it has to be mowed regularly.
MoeBot is able to mow the lawn 365 days a year, better still, it does a better job that a normal push mower plus there are no clippings to pick up and it is better for the environment.
Do robot lawn mowers really work?
Sound too good to be true?
Click the video below to see MoeBot reduce 10cm of grass to just 4cm.
Own your own robot business, with $0 buy in!
Are you sick of the corporate grind, or perhaps you are wanting to try something new? What if you could own your own robot business and work it part time or full time?
Just 5 robot sales a week could earn you $62KUSD per year!
What if you could have full support and training to get your business established?
Better still, what if there was no Franchise Fees, ongoing royalties or marketing levies?
How does it work?
Robot Mowers are starting to trend in the USA, but people still do not understand how a robot mower works. It is different to a push lawn mower and seeing is believing. Sitting a robot mower on a shelf does not sell the product, passionate people do!
From experience, we know many of our clients like to experience MoeBot through an at home demonstration to see how it works before purchasing.
Our dealers have an advantage over every other retailer, because we provide a true customer experience. Our dealers build trust and rapport and our average closing rate is 90%.
We also have no conflict of interest like your local mower dealer. Your local mower dealer isn't likely to sell you a robot mower, a robot mower has no ongoing servicing costs, so the dealer would be losing money over the long term compared to a mower sale.
Oh, did I also mention we do a great trade via Ebay and other online channels too? Our video marketing makes MoeBot easy to sell online as well.
We teach you everything you need to know
We provide you with full training and support including:
Marketing material
Video content
Social Posts
Sales Training
Product training
Technical support
We don't dictate how to run your business, but we provide an immense amount of support to help ensure you are successful
Limited offer for 20 people only
The USA has a population of 328Mil people and 129Mil households. There is no doubt this is a massive opportunity.
We are initially offering this exclusive opportunity to just 20 people.
Sure, the market could support many more dealers, but we want 20 great dealers who are operating their business extremely well and have the opportunity to build a larger business.
What is the catch, what does it cost?
We have no fees or charges expect product cost for your MoeBot's which you buy at a dealer rates. We can't advertise your buy price here, but we can tell you the expectation to be a MoeBot dealer.
A MoeBot dealer must purchase an initial 6 units, 1 as a demo unit and 5 units for stock as well as parts required for install:
5 extra bags of pegs
1 spare base station
1 spare charger
1 MoeBot polo shirt
Remember, you will be purchasing at dealer rates and we have no required monthly minimums. Our job is to help you sell.
It is low risk and a very easy business to get established.
Remember, you will be running a business and you must factor advertising costs into your budget.
Once you have passed the qualification process we will provide you with all of the prices and information you require.
How do you make money?
For us to make money, you have to make money, it is that simple.
We are here to help you grow a substantial business. If you meet our criteria, pass the interview we grant you a licence and you are up and running.
We don't take a royalty, franchise fee or marketing fee.
Our model is about getting our products into the marketplace and having licensed partners who can help us build a great brand together. We are about rapid scale and becoming profitable together.
Our model is about product distribution and great customer experience for our partners and end customers.
Australian Company
You'll be fully supported by an Australian company. Sure, we speak with a funny accent, but we know customer experience and how to sell a great product. We are innovators who are focused on helping you become successful.
Qualification process
We are seeking the right attitude!
We want to know why you should be one of the lucky 20 people we work with.
To apply to be a MoeBot dealer simply fill out the form at the bottom of the page and our team will be in contact.
Thanks for taking the time to learn about MoeBot, I look forward to speaking with you.
Glenn Yee (EMBA)- Managing Director