Do robot lawn mowers work?
Does a Robot Lawn Mower Really Cut It?
Yes, they work extremely well!
So why is it you have not heard of robot mowers until now?
Robot lawn mowers are new to the Australian market, yet the technology has been in existence for more than 25 years in Europe.
Unlike other parts if the world, the Australian lawn mower market has been heavily controlled by distributors of petrol mowers. Lawn mowers online Australia provide little incentive to sell, after all, they require very little ongoing maintenance. So there has been a lack of incentive for major distributors to push robot mowers, despite them being better for the environment, your lawn, and your time.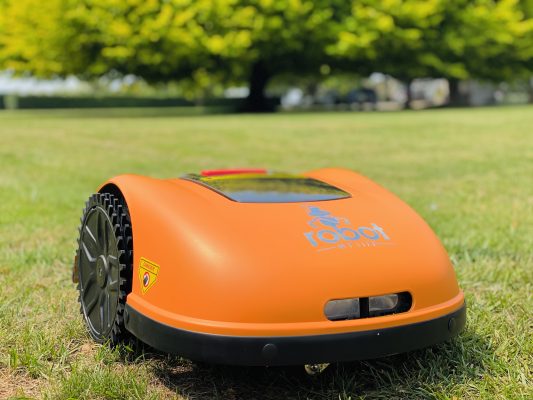 But that is now changing with MoeBot.
Robot mowers work extremely well, but they work very differently to a petrol mower.
Some of the key differences with lawn machine mowers are:
They are quiet
They can operate day or night
They can work to a schedule
They use a random cutting pattern
They use cutting blades akin to a razor blade
They leave no clippings to pick up
They require very little maintenance
They require installation
With a frog lawn mower you can keep your lawn in pristine condition!
You can mow 3 days a week and never let your lawn become over-grown ever again. Afterall, there is no need for you to be mowing the lawn anymore.
Imagine how much it would cost to have a lawn service mow your lawns 3 times per week?
No more rushing to have the grass mowed because guests are coming over, no more running to the petrol station.
Within weeks your grass will look greener and you will have more free time. Unlike an ordinary mower that uses blunt steel blades to whack your grass shorter, your MoeBot uses razor sharp cutting blades to create a fine mulch which helps fertilise the lawn and ensure you'll never have to pick up grass clippings again.
When a robotic lawn mower Australia cuts it uses a random cutting pattern. It may seem odd that a robot mower uses a random cutting pattern as it looks inefficient, but this is done for several reasons.
The algorithm for a random cut is easy to program, meaning less power use from the battery and less advanced technology required (reducing cost)
No unsightly track marks are left behind on the lawn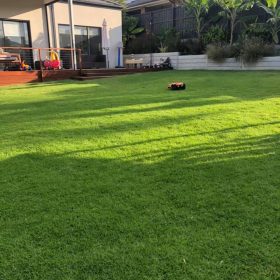 Reliable technology
Remember, the technology and computer inside your robot lawn mower has been kept simple, meaning less chance of failure, less drain on the battery and more cost effective. Your robot mower is subject to varying weather conditions and robust simple technology improves reliability.
Sure, it is possible with today's technology to add sensors, lasers, and complex computer systems, but this will mean your new robot mower is now a $10k robot, which is not cost-effective for the everyday person. Our objective is to provide you with a cost-effective robot mower using reliable technology. Our robot mowers do one thing very well, they cut your grass, which is what you want from a robot mower.
To use your Moebot you will need to install the boundary wire that comes with your lawn robot. The boundary wire helps define where your MoeBot should and should not go. Your MoeBot will also use the boundary wire to find its charging station and to perform an edge mow.
We are often asked is it easy to install a MoeBot.
If you are good at DIY projects, they are easy to install and we provide you with 20 instructional videos and a manual. If you run into any issues our team is here to answer your questions.
We also have installers available in
Melbourne
Sydney
Brisbane and the Gold Coast
Perth
Adelaide
Like normal mowing you will need to pick up sticks and branches that may be on the lawn. If you have holes and divots in your lawn these are best repaired to prevent your robot getting stuck in a hole. MoeBot will also do an edge mow but you will still need to whipper snip the edges around retaining walls or areas where there is a gap between the boundary wire and retaining wall.
So, if you want to free yourself from another mundane household chore, improve the quality of your lawn and help the environment, MoeBot's lawn mower doctor is for you.
Skip the crowded stores and long checkout lines. Purchase a lawn mower online from Moebot and have it delivered right to your doorstep. With easy online payment options and reliable shipping.
To find out more about MoeBot email: customerservice@robotmylife.com.au
see the moebot specs