The grass is always greener on the other side, with a robot lawn mower giving you the lush lawn you've always desired. Maintaining property has always been challenging, with self-charged robots now doing the labour-intensive work for you. Marking the boundary can take some time if your garden is very complicated or has a lot of flower beds and trees the mower needs to avoid, but it's usually a simple task. Additionally, they are far quieter than conventional lawnmowers. But is this hands-free method of mowing the lawn worth the high cost? Today, in this article, here are the 9 best robot lawn mowers online to buy in 2023 with their advantages for your lawn maintenance.


Let's get started!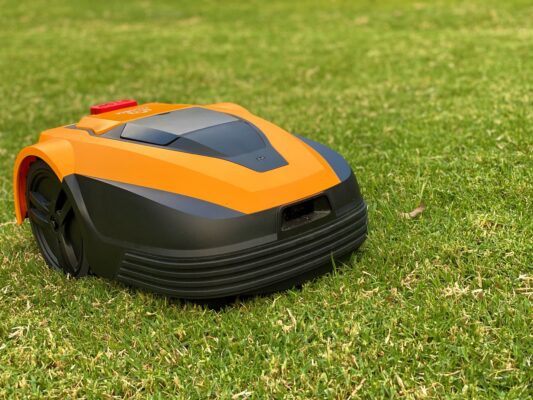 1. Moebot S10 Robot Lawn Mower – By allowing you to turn the blade once it becomes blunt on the Moebot S10, you can extend the life of your blades and gain insight into when you should replace the blade.
It is easy to upkeep and convenient, as it has a high-speed cutting motor that can handle all varieties of grass and mow up to five different areas at once.
Pros:
● Spending upon the workload, a battery needs to be updated every year or two.
● Can use the unit's LCD control screen to operate the robot
2. WORX Landroid WR149E Robotic Lawn Mower – The floating blade disc on this WORX robotic lawn mower automatically raises the blades to prevent the machine from becoming caught on pebbles or uneven ground.
The brand's cut-to-edge feature includes five programmable settings and six length options. (30-75mm)
Pros:
● Upto 700 square metres of the garden is ideal
● Can remove up to 4 distinct spaces
● Provides updates automatically
● 25 cm broad cuts
3. Ambrogio L30 Deluxe – The triangular design of this robot lawn mower makes it perfect for maintaining trickly shaped landscapes with flower beds and ponds if you're a serious gardener and view your garden as precious.
In addition, the front wheel's ability to rotate makes it ideal for tight spaces. It has an Eco mode sensor to maximize runtime and is intended for lawns up to 800 square metres in size.
Pros:
● Mowing can take up to 2 hours to complete
● Capable of travelling up to 50% of slopes
4. WORX Landroid M500 Robotic Lawn Mower – It might be challenging to believe, but this nearly $2000 robot lawn mower is among the most reasonably priced options available in the market.
It has five adjustable choices, two brushless motors, and an offset three-blade cutting and mulching system for trimming.
The 20V machine also contains a rain sensor to alert the robot to return to its station when the weather becomes too severe, as well as an auto-scheduling feature and motor torque bump detection.
Pros :
● Can cut four different places at once
● Four positions for cutting height (30-70mm)
● Covers 500 square metres
5. Swift RM18 Robot Mower – Robot lawnmowers are rarely offered for less than $1,000, but this swift model comes to the rescue at a reasonably affordable range.
It operatesat 65db, slightly louder than a conversation but not as loud as any hair dryer. It is also relatively quiet.
Pros:
● Able to mow up to 600 square meters and handle slopes of up to 35%
● Water and dust resistance
● Comes with a touch keypad that can input a PIN number to prevent burglary and change the cutting diameter.
6. Ambrogio L300 Elite Robotic Lawn Mower – This Ambrogio model is the terminator of a robot lawn mower. And is intended for yards up to 4,000 square metres.
According to reports, the high-performance device keeps track of how your grass develops and adjusts its settings accordingly to provide the desired results. This lawn mower may need up to 10 hours to do the task.
Pros:
● 36cm cutting blades are used.
● Cuts up to 30-degree terrains
7. Victa Robot Lawn Mower – The RM100 can save settings for up to four distinct regions and cover up to 600 square metres. Additionally, it is completely programmed, allowing you to choose when and how the lawn mower operates.
The best thing about this robot lawn mower is at 67dB, it is relatively quiet, making it slightly less noisy than a vacuum.
Pros:
● It can operate for up to 60 minutes on one battery
● Utilizes a back blade cutting method and has three blades
● 180 mm is the cutting width range
● Has a bump sensor system to find things like kids and pets.
8. Gardena Sileno City 250 Robotic Lawn Mower – This Gardena sileno robot lawn mower is as quiet as a restaurant conversation when operating at 58dB. It works well for backyards that are up to 250 square metres in size and can handle incline changes of upto 35%
Pros:
● PIN code security
● It has a collision sensor to stop it from running into things and automatically raises the blades to prevent harm
● Manufacturer's warranty for 2 years

9. WORX Landroid WR150E Robotic Lawn Mower – With this green-thumbed robot lawn mower, you can mow extensive gardens up to 1,500 square meters on a single battery.
It has the standard WORX robotic mower capabilities, including two brushless wheel motors, the cut to edge functions, automated updates and a rain sensor.
Pros:
● Detects movement and turns off automatically if picked up
● Two years of manufacturer's warranty plus an additional year of coverage after brand registration
Conclusion
Ultimately, you may be confused about whether robot mowers work well. Yes, it works well. The robot lawnmowers can establish boundaries online in various methods, such as with boundary wires.
However, you can utilize the accessories like these to avoid repeatedly rearranging the wire if you frequently add and remove tables and chairs for parties.
You can buy lawn mowers online in Australia from Moebot, a premium quality product with cost-effective prices.